Backwoods Basics – School of Wildcraft Medicine
"Healing Arts and Traditional Lore"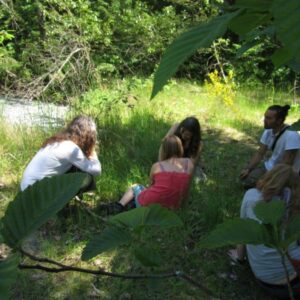 .
Specializing in West Coast indigenous plant medicine, our school's traditional folkloric format follows this oral, hands on tradition still used by indigenous cultures around the world; a timeless method of learning that teaches by stories, by doing and by experience. From the hands to the heart to the head, this is the essence of the folkloric teachings at the heart of Backwoods Basics philosophy.
Our curriculum is designed to provide students with the fundamental skills and confidence to begin their work with wild herbal medicine. The study of wildcraft medicine is a life long pursuit, Backwoods Basics' programs recognize this fact. We strive to give you a solid foundation on which to launch that pursuit, if you so choose, or in the very least to spark your curiosity to know more.
In our herbal programs you will learn:

principles of Folk herbalism and cultural folklore of specific plant medicine
Therapeutic actions of plant healing
How to prepare basic remedies for common family health concerns

Our classes are for anyone interested in:

Looking for more control over their own and their families' health
A self sufficient lifestyle
Ecologically sustainable health care
Personal empowerment
Or just for the LOVE of plants!
Now! Offering Backwoods Basics Herbal programs
in the Cowichan & on the Sunshine Coast 
check out dates and times for classes near you.
Stay informed by getting on our mailing list for future classes, upcoming events, newsletters.
 Bring Backwoods Basics to your Community
 Want to create your own individualized program? A group of 6 or more enthusiasts will bring me to your community. Group rates available for parties, associations, after school programs. Ask me about it! and put together your groups' interests. We'll talk! Start planning it now!!
Phone: 604-989-8095
Email: backwoodsbasics.info@gmail.com