From Beyond the Hedge; the HedgeWych tradition

In Old England, the towns folk lived in villages carved out of the wilds, as they became more civilized they planted hedges around their villages to keep the wild things out and as protection for their children. The healer; the "HedgeWych", lived on the edge, where she would often hop over the hedge to gather her medicine; barks and berries, and to talk to the wild things. Thus gaining much wisdom for her healing arts. She was held, by the town folks, with both awe and fear, but for her healing they would come. This is the HedgeWych tradition!
Welcome!
Backwoods Basics School of Wildcraft Medicine evolved out of  Sheila commitment to preserve what she feared was becoming a fading memory and endangered knowledge base of wild medicine, especially here in the Pacific Northwest. "As the old people pass away, so to will the knowledge of their wild medicine." First Nations trained but of Celtic ancestory, Sheila combines both of these dynamic cultures in her work with the local indigenous plant medicine.
Her educational programs aim to enliven awareness of the art of wildcrafting, of "practical" ethnobotany and folkloric medicine making.
Our forests are full of first aid; from the majestic Douglas fir to the graceful Red Cedar;
even our ferns, fungus and lichens dripping from the old growth,
speak of healing, speak of first aid!
In our forests can be found, antibiotics, antiseptics, pain and inflammation relief.
It is here in the old growth rain forests of British Columbia,
as well as in the meadows, streams and hills of home
that the ingredients for all our HedgeWych Wylds healing products are found.
"Dedicated to the Preservation of the Wild Lands and her Folk Herbal Knowledge"
UPCOMING CLASSES & EVENTS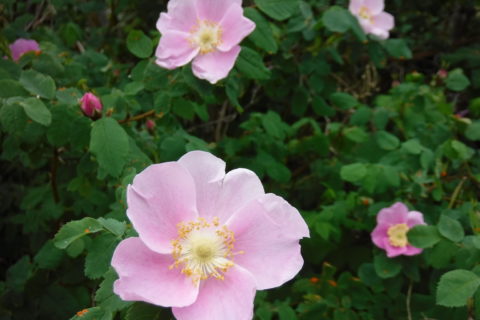 In this mini workshop we will learn Women's medicine; the herbs that can assist and support us through our lives and through the many changes we experience as women.  We experience many transitions in our lives, from girl to woman, … Read More